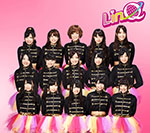 LinQ Live Tour 2013 titled Kyushu Kyoutou Tour (九州共闘ツアー) will be held from February 9 to 16.
LinQ will perform with other idol groups such as Yamaguchi Kassei Gakuen, Sense, Southern Cross, QunQun, Ryuuseigun Shoujo, Lovit's, Chimo, and MKM-Zero during this live tour.
The concerts will take place across the Kyushu region.
Schedule
09/02/2013

Time : –
Venue : Yamaguchi Sea Mall, Shimonoseki
Line up :

LinQ
Yamaguchi Kassei Gakuen
09/02/2013

Time : –
Venue : Minami Kumamoto Wonder City, Kumamoto
Line up :
10/02/2013

Time : –
Venue : SR Hall, Kagoshima
Line up :
10/02/2013

Time : –
Venue : Tenjin Best Hall, Fukuoka
Line up :

LinQ
QunQun
Ryuuseigun Shoujo
Lovit's
16/02/2013

Time : –
Venue : Park Place, Oita
Line up :
16/02/2013

Time : –
Venue : Weather King, Miyazaki
Line up :