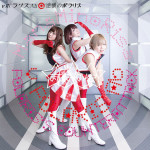 Manaminorisa's 10th single v Polaris Ab / Polaris's Counterattack (νポラリスAb / 逆襲のポラリス) was released on December 22.
This single marks the 2nd major label debut of Manaminorisa. It has a double A-side.
The full versions of the MVs have been unveiled.
In the title, "v" must be read as "new".
Tetsuhiko wrote the lyrics and composed the music of the 2 songs. They were arranged by Daiki Kasho.
In December, these tracks are respectively the opening theme for musicるTV airing on TV Asahi, and the ending theme for Uta Musume (ウタ娘) on Television Saitama.
5 editions are available. The track listing is the same for each one of them.
Furthermore, Manaminorisa 5th One-Man Live MMResults~まみりざるつ~ will be held on March 26, 2016 at Shinjuku Reny in Tokyo.
Tracklist
CD

v Polaris Ab (νポラリスAb)
Polaris's Counterattack (逆襲のポラリス)
v Polaris Ab ~One Minus Version~ (~ワンマイナスバージョン~)
Polaris's Counterattack ~One Minus Version~ (~ワンマイナスバージョン~)
Music Video (PV)