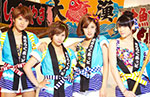 Mellow Quad (メロウクアッド) is a Japanese idol group formed in March 2013. It consists of 4 members from Berryz Kobo and °C-ute.
Mellow Quad is part of Hello! Project and Satoumi Movement.
They are going to release their 1st single Eiya-sa! Brother (エイヤサ!ブラザー) on August 7, 2013 with Dia Lady and Hi-Fin.
Profile
Mellow Quad (メロウクアッド)
Years active : 2013 – present
Label : –
Agency : Up Front Agency
Members
Tokunaga Chinami (徳永千奈美) (Berryz Kobo)
Natsuyaki Miyabi (夏焼雅) (Berryz Kobo)
Yajima Maimi (矢島舞美) (°C-ute)
Okai Chisato (岡井千聖) (°C-ute)
Discography
Singles
07/08/2013 : Lady Mermaid / Eiya-sa! Brother / Kaigan Seisou Danshi (レディーマーメイド / エイヤサ!ブラザー / (海岸清掃男子) (Dia Lady, Mellow Quad, Hi-Fin)
Albums
Links
News