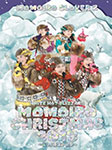 Momoiro Clover Z concert Momoiro Christmas 2013 ~Utsukushiki Gokkan no Sekai~ (ももいろクリスマス2013 ~美しき極寒の世界~) will be released on DVD and Blu-ray on June 25.
Momoiro Christmas 2013 was held on December 23, 2013 at Seibu Dome in Saitama. Momoiro Clover Z performed 26 songs during this live performance.
The trailer has been released.
40000 fans attended the event at Seibu Dome, and 25000 other people watched the concert which was broadcast live in 70 theaters across Japan.
It was a challenge for the members of Momoclo as the weather was cold and the temperature reached 4 °C.
The DVD edition of Momoiro Christmas 2013 includes 3 discs, and the Blu-ray edition consists of 2 discs.
Moreover, a special website has been opened.
Furthermore, Momoclo's new single Naitemo Iindayo (泣いてもいいんだよ) will be released on May 8.
Setlist
Bokura no Century (僕等のセンチュリー)
Mirai Bowl (ミライボウル)
Roudou Sanka (労働讃歌)
Saraba, Itoshiki Kanashimitachi yo (サラバ、愛しき悲しみたちよ)
Gounn
Mouretsu Uchuu Koukyoukyoku Dainana Gakushou "Mugen no Ai" (猛烈宇宙交響曲・第七楽章「無限の愛」)
Sora no Curtain (空のカーテン)
Twinkle Wink! / Twinkle5
DNA Kyoushikyoku (DNA狂詩曲)
Kasou Dystopia (仮想ディストピア)
Kimi Yuki (きみゆき)
Hagane no Ishi (鋼の意志)
Chai Maxx
Hashire! (走れ!)
Santa-san (サンタさん)
Naichaisou Fuyu (泣いちゃいそう冬)
Itsuka Kimi ga (いつか君が)
Zenryoku Shoujo (全力少女)
Ikuze! Kaitou Shoujo (行くぜっ!怪盗少女)
Shiroi Kaze (白い風)
– Encore –
~overture~
Kuroi Shuumatsu (黒い週末)
Hai to Diamond (灰とダイヤモンド)
Ai no Memory (愛のメモリー)
Ano Sora he Mukatte (あの空へ向かって)
Akahana no Tonakai (赤鼻のトナカイ)
Stardust Serenade (スターダストセレナーデ)
Video (Trailer)