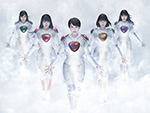 Momoiro Clover Z (ももいろクローバーZ), also known as Momoclo (ももクロ), is a Japanese idol group formed in 2008. They are sometimes nicknamed the Weekend Heroines (週末ヒロイン).
It currently consists of 5 members. Each one has been assigned a color.
The leader is Momota Kanako.
The idol unit is managed by Stardust Promotion and is part of its Section 3.
It is a sister group of Shiritsu Ebisu Chuugaku (私立恵比寿中学), Team Syachihoko (チームしゃちほこ) and Tacoyaki Rainbow (たこやきレインボー).
Biography / History
The girls passed the Stardust Section 3 Audition (スターダスト芸能3部オーディション) in early 2008.
Momoiro Clover held their 1st live performance in May 2008.
The 6 original members were Tagaki Reni, Kagawa Miyuu, Ikura Manami, Momota Kanako, Tamai Shiori and Takai Tsukina.
Takai Tsukina withdrew in July 2008 in order to be transferred to SKE48.
Fujishiro Sumire joined the idol group a few days later in August 2008.
Kashiwa Yukina, Hayami Akari and Sasaki Ayaka were added in November 2008.
Kagawa Miyuu, Ikura Manami and Fujishiro Sumire announced their graduation in December 2008.
Kashiwa Yukina retired in March 2009.
Their 1st live tour Momoiro Clover Japan Tour 2009 Momoiro Typhooooon! (ももいろクローバーJapanツアー2009 ももいろTyphooooon!) was held between May and August 2009.
Ariyasu Momoka joined the idol unit in July 2009.
Their 1st single Momoiro Punch (ももいろパンチ) was released in August 2009.
Momoclo signed under Universal J label in February 2010.
Their major debut single Ikuze! Kaitou Shoujo (行くぜっ!怪盗少女) was released in May 2010.
They were transferred to Star Child label in August 2010.
The variety show ももクロChan ~Momoiro Clover Z Channel~ started airing on TV in October 2010.
Hayami Akari withdrew in April 2011 to pursue her career as an actress.
The idol group changed its name to Momoiro Clover Z just after this event.
Their 1st album Battle and Romance (バトル アンド ロマンス) went on sale in July 2011.
In August 2011, former member Kashiwa Yukina joined Nogizaka46.
The members appeared in the movie Ninifuni released in September 2011. They played their own roles.
Momoclo participated in Japan Media Arts Festival in Dortmund, Germany, in September 2011.
Momoiro Clover Z held a joint concert with Tokyo Girls' Style in November 2011.
The variety show Momoclo Dan (ももクロ団) was broadcast between January and December 2012 on TBS.
In May 2012, the idol group held a live performance at Putrajaya, Malaysia.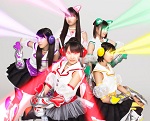 Momoiro Clover Z performed at Japan Expo in Paris Nord Villepinte, France, in July 2012.
They performed the theme song for the new Sailor Moon (美少女戦士セーラームーン) anime.
The girls participated in the NHK Kouhaku Uta Gassen (NHK紅白歌合戦) in December 2012 and 2013. It is a popular annual music show broadcast on New Year's Eve.
Momoclo TV ranked as the #1 channel at the Ustream Awards 2012 and 2013.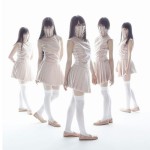 In June 2013, the music video for Saraba, Itoshiki Kanashimitachi yo (サラバ、愛しき悲しみたちよ) won the Best Choregraphy Award at the MTV Video Music Awards Japan.
In August 2013, the concert Momoclo Natsu no Bakasawagi World Summer Dive 2013 (ももクロ夏のバカ騒ぎ World Summer Dive 2013) was held at Nissan Stadium in Yokohama. 60000 fans attended the live performance.
In April 2014, Sasaki Ayaka broke her left foot during a recording of the TV show Mujack (ミュージャック). She had to stop her activities for a period of 2 months.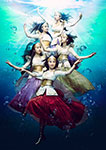 In May 2014, the girls appeared in the drama Akumu-chan (悪夢ちゃん) starring Kitagawa Keiko. They formed a special unit, KimoClo (きもクロ), in collaboration with the actress.
In June 2014, Momota Kanako was appointed as goodwill ambassador of the city of Hamamatsu in Shizuoka prefecture.
Sasaki Ayaka voice acted Athena in the movie Saint-Seiya Legend of Sanctuary released in June 2014.
In July 2014, Momota Kanako performed in the stage version of Sujinashi (スジナシ) in Nagoya. She will play an unscripted improvisation theater.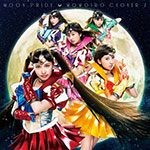 In July 2014, Momoiro Clover Z released the single Moon Pride which includes the theme songs for the anime Pretty Guardian Sailor Moon Crystal (美少女戦士セーラームーンCrystal).
In August 2014, the girls appeared in a TV commercial for the e-book comics service Comico (コミコ).
In December 2014, the members of the idol group appeared as guest voice actresses in the anime Kami Usagi Rope Warau Asa ni ha Fuku Kitaru Maji ssu ka !? (紙兎ロペ 笑う朝には福来たるってマジっすか!?). They dubbed the voices of bears representing their characters.
In January 2015, Momoclo started a series of monthly live performances titled Gekkan Takahashi (月刊Takahashi). The events will take place in the various Zepp venues across Japan.
The variety show Momoiro Tsurube (桃色つるべ~お次の方どうぞ~) started airing on TV Kansai in January 2015. The girls co-host the program with actor and comedian Shofukutei Tsurube II.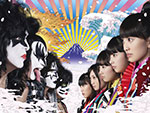 Momoiro Clover Z and Kiss released in collaboration the single Yume no Ukiyo ni Saitemina (夢の浮世に咲いてみな) in January 2015.
The members are starring in the movie Maku ga Agaru (幕が上がる) released in theaters in February 2015. The idol group's songs Seishunfu, Yuku Haru Kuru Haru an Link Link are used in the film. Takoyaki Rainbow also appear in the movie.
They participated in a promotional campaign for Aeon Mall shopping centers in March 2015.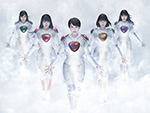 The girls dubbed the voices of angels characters in the movie Dragon Ball Z Fukkatsu no "F" (ドラゴンボールZ 復活の『F』) which will be released in April 2015. They also perform "Z" no Chikai (『Z』の誓い) which is the theme song for the movie based on the manga by Toriyama Akira.
Tagaki Reni (Momoiro Clover Z), Mayama Rika (Shiritsu Ebisu Chuugaku) and Ohguro Yuzuki (Team Syachihoko) formed Team Murasaki Shikibu (Team紫しきぶ) in June 2015. Each one selected because her image color is purple in her own unit.
Sasaki Ayaka made a guest appearance on Tokyo 03 Frolic a Holic Love Story "Torikaeshinotsukanai Sugata" (東京03 Frolic a Holic ラブストーリー『取り返しのつかない姿) stage play at Akasaka Act Theater in June 2015.
Momoiro Clover Z participated in Anime Expo 2015 in Los Angeles, USA, in July 2015.
Takagi Reni broke her left wrist during a rehearsal in July 2015. The diagnostis was a distal radius fracture which requires 4 months for complete recovery.
In September 2015, Momoclo participated in a disaster prevention campaign alongside the Tokyo metropolitan governor. They introduced themselves as heroines.
Profile
Momoiro Clover Z (ももいろクローバーZ) – Momoclo (ももクロ)
Years active : 2008 – present
Label : Evil Line Records
Agency : Stardust Promotion
Members
Momota Kanako (百田夏菜子) – Red
Tagaki Reni (高城れに) – Purple
Ariyasu Momoka (有安杏果) – Green
Tamai Shiori (玉井詩織) – Yellow
Sasaki Ayaka (佐々木彩夏) – Pink
Former Members
Takai Tsukina (高井つき奈)
Kagawa Miyuu (和川未優)
Ikura Manami (伊倉愛美)
Fujishiro Sumire (藤白すみれ)
Kashiwa Yukina (柏幸奈)
Hayami Akari (早見あかり) – Blue
Discography
Singles
05/08/2009 : Momoiro Punch (ももいろパンチ)
11/11/2009 : Mirai e Susume! (未来へススメ!)
05/05/2010 : Ikuze! Kaitou Shoujo (行くぜっ!怪盗少女)
10/11/2010 : Pinky Jones (ピンキージョーンズ)
24/12/2010 : Kimi Yuki (きみゆき)
09/03/2011 : Mirai Bowl (ミライボウル)
11/06/2011 : Akarin e Okuru Uta (あかりんへ贈る歌)
06/07/2011 : Z Densetsu ~Owarinaki Kakumei~ (Z伝説~終わりなき革命~)
06/07/2011 : D'no Junjou (D'の純情)
23/11/2011 : Roudou Sanka (労働讃歌)
25/12/2011 : Shiroi Kaze (白い風)
07/03/2012 : Mouretsu Uchuu Koukyoukyoku Dainana Gakushou "Mugen no Ai" (猛烈宇宙交響曲・第七楽章「無限の愛」)
27/06/2012 : Otome Sensou (乙女戦争)
21/11/2012 : Saraba, Itoshiki Kanashimitachi yo (サラバ、愛しき悲しみたちよ)
24/12/2012 : Bokura no Century (僕等のセンチュリー)
16/11/2013 : Gounn
23/12/2013 : Naichaisou Fuyu / Hagane no Ishi (泣いちゃいそう冬 / 鋼の意志)
08/05/2014 : Naitemo Iindayo (泣いてもいいんだよ)
30/07/2014 : Moon Pride
28/01/2015 : Yume no Ukiyo ni Saitemina (夢の浮世に咲いてみな) (Momoiro Clover Z × Kiss)
11/03/2015 : Seishunfu (青春賦)
19/04/2015 : "Z" no Chikai (『Z』の誓い)
Albums
27/07/2011 : Battle and Romance (バトル アンド ロマンス)
10/04/2013 : 5th Dimension
Live Albums
21/04/2012 : Momoclo ★ All Stars 2012 (ももクロ★オールスターズ 2012)
Best-of Albums
05/06/2013 : Iriguchi no Nai Deguchi (入口のない出口)
Links
News