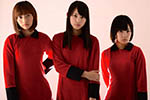 nanoCUNE is a Japanese idol group formed in 2012.
It currently consists of 2 members.
The leader is Kadota Mayu.
The girls are from Ehime prefecture.
nanoCUNE is a sister group of Hime Kyun Fruit Can, FruitPochette, and AiCune.
Biography / History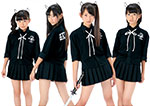 Their 1st single Hareruya! (晴れルヤ!) was released in July 2012.
Murata Akane and Kono Rinne announced their graduation in March 2013. Murata Akane is now a member of AiCune.
Nishioka Ayami and Kinoshita Kokoro joined the idol group in April 2013.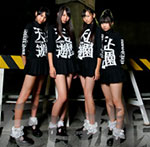 nacoCUNE's 1st album Tenjou Yuuen (天上遊園) went on sale in November 2013.
The members of the idol group played in the drama Asunaro Sanjou! (あすなろ参上!) broadcast between November and December 2013 on NOTTV. The lead roles were played by Hime Kyun Fruit Can.
nanoCUNE held their 1st live tour Fairy Circle Tour 2014 in August and September 2014. The girls performed in Nagoya, Matsuyama and Osaka. This event was organized in conjunction with the release of their 4th single Tempra (テンプラ).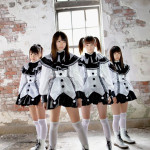 nanoCUNE released their major debut single Higeki no Macho Man (悲劇のマッチョマン) in January 2015 under Victor Entertainment's label Version Music.
Kinoshita Kokoro announced her graduation due to poor physical health in September 2015. She made her last appearance on the single Guru Guru Earth (グルぐるあーす) which went on sale after she left the idol group.
Ohara Ayu graduated in February 2016.
Profile
nanoCUNE (ナノキュン)
Years active : 2012 – present
Label : Version Music
Agency : Mad Magazine Records
Members
Kadota Mayu (門田茉優)
Nishioka Ayami (西岡亜弥実)
Former Members
Murata Akane (村田和佳音)
Kono Rinne (河野凜音)
Kinoshita Kokoro (木下こころ)
Ohara Ayu (大原歩)
Discography
Singles
04/07/2012 : Hareruya! (晴れルヤ!)
24/10/2012 : Shoudou Days (衝動Days)
24/07/2013 : Usotsuki Ryan (嘘つきライアン)
09/07/2014 : Tempra (テンプラ)
28/01/2015 : Higeki no Macho Man (悲劇のマッチョマン ; The Tragic Macho Man)
04/11/2015 : Guru Guru Earth (グルぐるあーす)
Albums
13/11/2013 : Tenjou Yuuen (天上遊園)
Links
News