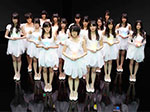 NMB48 Concert Tour 2013 Spring titled NMB48 Western Japan Tour 2013 (NMB48西日本ツアー2013) will be held from March 4 to April 5.
The concerts will take place in Western Japan (Hiroshima, Okayama, Kanagawa, Tottori, Fukuoka, Kobe, Osaka, and Otsu).
NMB48′s 1st album Teppen Tottande! (てっぺんとったんで!) will be released on February 27.
Schedule
04/03/2013

Time : –
Venue : Hiroshima Bunka Gakuen HBG Hall, Hiroshima
06/03/2013

Time : –
Venue : Okayama Civic Hall, Okayama
07/03/2013

Time : –
Venue : Alpha Anabuki Hall, Kanagawa
08/03/2013

Time : –
Venue : Tottori Prefecture Citizens' Culture Hall, Tottori
01/04/2013

Time : –
Venue : Fukuoka Sun Palace Hotel & Hall, Fukuoka
03/04/2013

Time : –
Venue : Kobe International House, Hyogo
04/04/2013

Time : –
Venue : Orix Theater, Osaka
05/04/2013

Time : –
Venue : Biwako Hall, Shiga