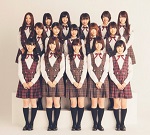 Nogizaka46 will participate in Japan Expo in Paris Nord Villepinte, France.
Nogizaka46 will hold a live performance on July 4 at 15:00 at the Live House. They will also make an appearance at 14:00 on the 15th Anniversary stage.
The list of the 16 members of the idol group who will be present at Japan Expo 2014 has been unveiled.
Akimoto Manatsu, Ikoma Rina, Inoue Sayuri, Eto Misa, Saito Yuuri, Sakurai Reika, Shiraishi Mai, Takayama Kazumi, Nishino Nanase, Hashimoto Nanami, Fukagawa Mai, Hoshino Minami, Hori Miona, Matsumura Sayuri, Yamato Rina, Wakatsuki Yumi