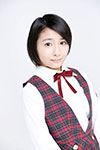 Ichiki Rena announced her graduation from Nogizaka46.
As she entered the Waseda University Department of Literature this spring, she decided to focus on her studies.
She will leave the idol group on July 21 after a last handshake event at the Makuhari Messe in Chiba.
Ichiki Rena joined Nogizaka46 in August 2011 as a 1st generation member. She was part of the Senbatsu on the singles Guru Guru Curtain (ぐるぐるカーテン) and Seifuku no Mannequin (制服のマネキン).