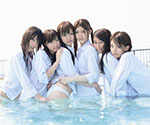 Nogizaka46's 1st photobook Nogizaka Ha (乃木坂派) will be released on October 22.
The theme is a camping trip of the students of a seaside school. The members of Nogizaka46 participate in various challenges such as cooking curry, milking cows in a farm… The photobook includes also pictures in swimsuit for the first time.
The book has 160 pages and is in A4 format.
The pictures were taken by the photographers Kawashima Yuko, Tatsumi Chie, Oe Maki, and Tojima Ai.
Furthermore, Hori Miona has been chosen to be the center on Nogizaka46's 7th single which is going to be released on November 27.