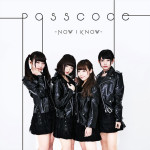 PassCode's new single Now I Know will be released on May 27th.
This is the 2nd single from PassCode, an idol group performing rock and EDM (electro dance music) songs.
Check out the MV and the trailer movies from their latest live shows.
Sound producer Hirachi Koji composed the music.He said that the theme was little bit different from his previous CDs made for PassCode. According to him, the lyrics have a strong message.
2 editions are on sale. The B-side track is different for each one.
Seek out the truth is described as an uptempo tune with changes of rhythm. It features Imada Yuna's shout scream which is one of the characteristics of the idol group. For those who may not know her, she is one of the 4 members.
Orange (オレンジ) is a song that has not been performed during live show yet.
Tracklist
Type A

Now I Know
Seek out the Truth
Type B

Now I Know
Orange (オレンジ)
Music Video (PV)