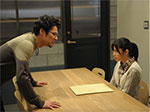 Sashihara Rino will make an appearance in the movie Ore wa Mada Honki Dashitenai Dake (僕はまだ本気出してないだけ).
The movie is an adaptation of Aono Shunju's manga. It is directed by Fukuda Yuichi.
Sashihara Rino will play the role of Unami Aya, an editor who turns down the main character's mangas.
The movie will be released in theaters on June 15 in Japan.
Ore wa Mada Honki Dashitenai Dake (Trailer)