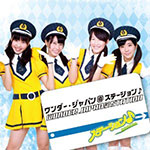 Station♪ will release there new single Wonder Japan @ Station (ワンダージャパン@ステーション♪) on January 22.
It is the 7th single from Station♪. Only one edition is available. The CD contains the title song and its instrumental version.
A short video recorded during a live performance has been posted.
In addition, Station♪'s latest single Rush Hour!!! (ラッシュアワー!!!) is on sale since December 18.
Tracklist
Wonder Japan @ Station (ワンダージャパン@ステーション♪)
Wonder Japan @ Station (ワンダージャパン@ステーション♪) (Instrumental)
Video (Live)