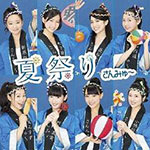 Sunmyu's new single Natsu Matsuri (夏祭り) will be released on July 3.
4 editions are available. The coupling songs are different for each one of them.
The limited editions include a bonus DVD featuring either various versions of the music video and its making-of, or a documentary on Sunmyu.
Natsu Matsuri is a cover of Jitterin' Jinn's song released in 1990.
Moreover, Sunmyu will hold their 2nd one-man live Sunmuseum titled Matsu no Mahou (夏の魔法) and Hanabi to Taiyou (花火と太陽) on July 7 at Shimokitazawa Garden in Tokyo.
Regular Edition
CD

Natsu Matsuri (夏祭り)
Mae ni Susume! (前にススメ!)
Natsu Matsuri (夏祭り) (Instrumental)
Mae ni Susume! (前にススメ!) (Instrumental)
Limited Edition Type A
CD

Natsu Matsuri (夏祭り)
Mae ni Susume! (前にススメ!)
Natsu Matsuri (夏祭り) (Instrumental)
Mae ni Susume! (前にススメ!) (Instrumental)
DVD

Natsu Matsuri (夏祭り) (Music Video)
Natsu Matsuri (夏祭り) (Dance Version)
Natsu Matsuri (夏祭り) (Close-up Version)
Natsu Matsuri (夏祭り) (Making of)
Limited Edition Type B
CD

Natsu Matsuri (夏祭り)
Owaranai de, Natsu (終わらないで、夏)
Natsu Matsuri (夏祭り) (Instrumental)
Owaranai de, Natsu (終わらないで、夏) (Instrumental)
DVD

Documentary of Sunmyu Vol.04
Limited Edition Type C
CD

Natsu Matsuri (夏祭り)
Mezame yo! Otome (目覚めよ!乙女)
Natsu Matsuri (夏祭り) (Instrumental)
Mezame yo! Otome (目覚めよ!乙女) (Instrumental)
DVD

Documentary of Sunmyu Vol.05
Music Video (1 Chorus Ver.)