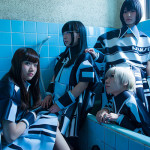 Maison Book Girl's 1st album Bath Room will be released on September 23.
This will be the first CD of the idol group to go on sale nationwide.
The album contains 9 tracks including songs from Maison Book Girl's previous singles White and Black and 3 new ones (snow irony, Saigo no Youna Kanojo no Kyoku, Remove).