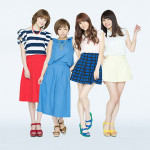 Ciao Bella Cinquetti (チャオ ベッラ チンクエッティ), formerly known as The Possible (Theポッシボー) is a Japanese idol group formed in 2006.
They are also known as The Possibooooo.
It currently consists of 4 members.
Biography / History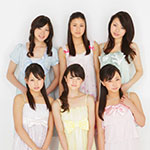 The idol unit was created with girls who were members of Hello! Pro Egg (ハロプロエッグ). They graduated from Hello! Project (ハロープロジェクト) on October 7, 2007.
Morozuka Kanami, Hashimoto Aina and Akiyama Yuriki are 1st generation members of The Possible.
Okada Robin Shoko and Goto Yuki are part of the 2nd generation.
Okada Robin Shoko is half American and half Japanese. She was born in Boston. She spent her childhood in Los Angeles. She moved from USA to Japan in 2000 when she was 7 years old.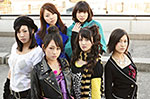 Their 1st single Young Days!! (ヤング Days!!) was released in November 2006.
They formed the Real Air Band (リアルエアバンド) in 2007. It was consisting of Ohse Kaede (drums), Hashimoto Aina (bass), Akiyama Yurika (lead guitar), Goto Yuki (side guitar), Morozuka Kanami (keyboard) and Okada Robin Shoko (main vocal). Each girl "played" an instrument during live performances and on the music videos for Happy 15, Love Message! (ラヴメッセージ!) and Kazoku e no Tegami (家族への手紙).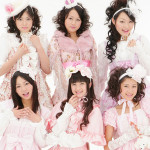 The Possible made their major debut in April 2008 with the single Kazoku e no Tegami.
The idol group joined the Nice Girl Project (NGP!) during the summer of 2008.
Their 1st concert tour titled The Possible Live Tour 2008 Autumn ~Sexy Generation~ (The ポッシボー ライブツアー2008秋~Sexy ジェネレーション~) was held in 2008. The event took in Tokyo, Kobe and Nagoya.
They participated in Tsunku♂ Theater (つんく♂Theater) in November 2008.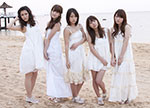 Ohse Kaede announced her graduation in August 2009 in order to study abroad.
Okada Robin Shoko and Oura Ikuko (Nice Girl Project) hosted the radio show The Possible Robin to Canary Club Ikucchi no PossiCana? (Theポッシボーロビンとキャナァーリ倶楽部いくっちの ポッシきゃな?) from April 2008 to April 2011. The program was broadcast on CBC.
The structure of their management agency and the concept of the unit changed in the spring of 2011.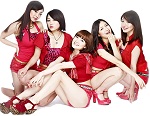 The Possible was close to disband in the beginning of 2012.
The idol group joined Victor Entertainment in August 2012.
They participated in Hello! Project 15th Anniversary Live Tour in January 2013.
They became the first group to sign under Victor Entertainment's girl pop label VersionMusic in February 2013.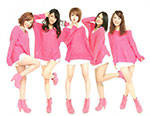 In August 2013, the members challenged to gather at least 2222 fans at The Possible Toumeisaka Live Tour 2013 (Theポッシボー東名阪ライブツアー2013) in order to hold a concert at Nakano Sun Plaza, Tokyo. They failed because only 2195 people attended the event.
The girls appeared in a TV commercial (CM) for Seiyu (西友~味番付~) in October 2013.
The Possible, Up Up Girls (Kari) and Kikkawa You formed the idol unit Team Makenki (チーム・負けん気) in February 2014.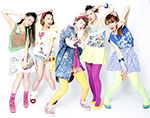 Team Makenki released its 1st single Mugen, Fly High!! (無限、Fly High!!) in September 2014.
Hashimoto Aina hosted I Meet Up! The Possible wa Hashimon to Yukai Possitachi (i Meet Up!|Theポッシボー!はしもんと愉快なポッシ達!) radio show on Nack5 from October 2014 to March 2015.
They appeared in a commercial for Phantasy Star Nova (ファンタシースター ノヴァ) RPG video game by for Playstation Vita in early 2015.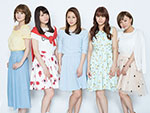 The Possible was transferred to Up-Front and its label Piccolo Town in April 2015.
Their official YouTube channel opened in April 2015.
The Possible changed their name to Ciao Bella Cinquetti in July 2015. Now that they are in their twenties, the members of the idol group wanted to show their evolution and that they became adults.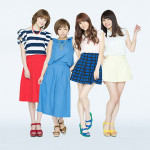 Akiyama Yurika announced her graduation in August 2015.
Profile
The Possible (Theポッシボー) / Ciao Bella Cinquetti (チャオ ベッラ チンクエッティ)
Years active : 2006 – present
Label : Piccolo Town
Agency : Up-Front
Members
Hashimoto Aina (橋本愛奈)
Morozuka Kanami (諸塚香奈実)
Okada Robin Shoko (岡田ロビン翔子)
Goto Yuki (後藤夕貴)
Former Members
Ohse Kaede (大瀬楓)
Akiyama Yurika (秋山ゆりか)
Discography
Singles
19/11/2006 : Young Days!! (ヤング Days!!)
10/12/2006 : Hatsukoi no Kakera (初恋のカケラ)
18/02/2007 : Shushoku = Gohan no Uta (主食=Gohanの唄)
13/06/2007 : Natsu no Tropical Musume. (夏のトロピカル娘。) (The Possible featuring Akiyama Yurika and Hashimoto Aina)
13/06/2007 : Kingyo Sukui to Hanabi Taikai (金魚すくいと花火大会) (The Possible featuring Okada Robin Shouko and Goto Yuki)
01/08/2007 : Kaze no Uwasa (風のうわさ)
07/11/2007 : Happy 15
20/02/2008 : Love Message! (ラヴメッセージ!)
30/04/2008 : Kazoku e no Tegami (家族への手紙)
06/08/2008 : Ijiwaru Crazy Love (いじわる Crazy Love)
07/01/2009 : Shiawase no Katachi (幸せの形)
09/09/2009 : Family ~Tabidachi no Asa~ (Family~旅立ちの朝~)
06/10/2010 : Watashi no Miryoku / Love² Paradise (私の魅力/Love2 パラダイス)
29/08/2012 : Nanja Korya (なんじゃこりゃ)
10/04/2013 : Zenryoku Banzai! My Glory! (全力バンザーイ!My Glory!)
11/09/2013 : Otome! Be Ambitious (乙女!Be Ambitious)
26/03/2014 : Yuuki Super Ball! (勇気スーパーボール!)
08/07/2015 : Omotesando / Futago Tamagawa / Never Never Give Up (表参道 / 二子玉川 / Never Never Give Up)
Other Singles
25/11/2011 : Shiawase Hanabi Goo Goo GOOO! ~Buchi no Mese! Dai Pinchi!~ (幸せ花火ゴッゴッGOーッ!~ぶちのめせ!大ピンチ!~)
15/01/2012 : Kibou to Seishun no Hikari ~C'mon! Pikaa! Pikaa!~ (希望と青春のヒカリ~カモン!ピカッ!ピカッ!~)
25/02/2012 : Sakurairo no Romantic (桜色のロマンチック)
21/03/2012 : Play Ball (プレイボール) (Mikage Masahide with Razz Like Air / The Possible & Ogawa Mana)
17/09/2014 : Mugen, Fly High!! (無限、Fly High!!) (Team Makenki)
Albums
14/03/2007 : 1 Be Possible!
28/03/2012 : 2 Shiawase no Akashi (②幸せの証)
03/09/2014 : 1116
Mini-Albums
31/08/2011 : 6 Nenme Start! (6年目スタート!)
Best-of Albums
17/09/2008 : Kyuukyoku no The Possible Best Number Shuu 1 (究極のThe ポッシボー ベストナンバー集 1)
20/02/2013 : Aratamemashite, The Possible Desu! ~Nyuumon Hen Best~ (あらためまして、The ポッシボーです!~入門編ベスト~)
Links
News