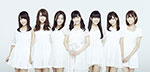 Watarirouka Hashiritai 7 (渡り廊下走り隊7) is a Japanese idol group formed in October 2008.
It consists of 6 members.
Watarirouka Hashiritai 7 is a sub-unit of AKB48.
Watanabe Mayu is the "center".
Kikuchi Ayaka joined the unit in February 2010. Iwasa Misaki and Komori Mika were added in June 2010.
In July 2010, their radio show of the same name began to be broadcast on Nippon Broadcasting System (ニッポン放送).
Hirajima Natsumi withdrew from the unit in January 2012. She was replaced by the former AKB48 and SDN48 member Urano Kazumi one month later.
Watarirouka Hashiritai 7 disbanded on December 25, 2013.
Profile
Watarirouka Hashiritai 7 (渡り廊下走り隊7)
Years active : 2008 – 2013
Label : Pony Canyon
Agency : Production Ogi, Nagara Production
Members
Ota Aika (多田愛佳)
Nakagawa Haruka (仲川遥香)
Watanabe Mayu (渡辺麻友)
Kikuchi Ayaka (菊地彩香)
Iwasa Misaki (岩佐美咲)
Urano Kazumi (浦野一美)
Former Members
Hirajima Natsumi (平嶋夏海)
Komori Mika (小森美果)
Discography
Singles
28/01/2009 : Hatsukoi Dash / Aoi Mirai (初恋ダッシュ / 青い未来)
22/04/2009 : Yaruki Hanabi (やる気花火)
11/11/2009 : Kanpeki Gu~ no ne (完璧ぐ~のね)
17/03/2010 : AkKanbe Bashi (アッカンベー橋)
30/06/2010 : Seishun no Flag (青春のフラッグ)
01/09/2010 : Gyu (ギュッ)
02/02/2011 : Valentine Kiss (バレンタイン・キッス)
03/08/2011 : Hetappi Wink (へたっぴウインク)
30/11/2011 : Kibou Sanmyaku (希望山脈)
30/05/2012 : Shounen yo Uso wo Tsuke! (少年よ 嘘をつけ!)
Digital Singles
27/04/2011 : Mamma, Grazie! (マンマ、グラッチェ!)
04/04/2012 : Shounen yo Uso wo Tsuke! (Theater Version) (少年よ 嘘をつけ! (劇場版バージョン))
Albums
13/10/2010 : Rouka wa Hashiruna! (廊下は走るな!)
Best-of Albums
25/12/2013 : Best Album (ベストアルバム)
Links
News