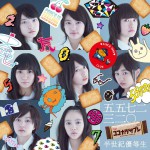 Mysterious Japanese female rock band 5572320 (五五七二三二〇) is going to make its debut under Sony Music Labels.
As some people believed, they are Shiritsu Ebisu Chuugaku (私立恵比寿中学).
Check the full version of the MV and new artist pictures unveiling their faces.
The concept of 5572320 is that the band consists of 8 Japanese junior high school girls playing massive heavy music with high level skills.  Their debut single Hanseiki Yuutousei (半世紀優等生) will be released on March 25 in 40 countries over the world.
The identity of the members of 5572320 (五五七二三二〇) hadn't been revealed immediately. It was said to be kept secret because they are junior high school students and they want to achieve both music activities and academic studies.
The girls have high performance skills that far exceeds the level of junior high school students.
The band name is pronounced "go go nana ni san ni rei".
The title of 5572320's debut song Hanseiki Yuutousei means "Half a Century Honor student". The members are showing off the aggressive and provocative performance to express their complex which is peculiar to the teenager and desire to self-transformation with irregular instrumental composition of 5 guitars and 3 drums.
As you can see on the videos below, the members of Shiritsu Ebisu Chuugaku, aka Ebisu, worked very hard to learn playing the guitar and drums.
5572320 held their first public performance "guerilla live" on March 19 in Shinjuku, Tokyo.
The band has been created to celebrate Coconut Sable's 50 birthday.
Music Video (PV)