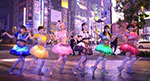 Moso Calibration's 7th single Mahou no Juice (魔法のジュース) will be released on April 7.
The MV has been unveiled.
The members of Moso Calibration are wearing "hikaru skirts" (LED light-emitting skirts) in the video. The girls dance in the streets of Akihabara and go to game centers.
This single is produced by Wicky Recordings (Tonegawa Takeyuki, Dr Usui, Saka Kazuya).
The Type A edition comes with a bonus DVD featuring the music video and its making-of.
The Type B edition includes various versions of the coupling song You wo Check Shimasu! (Youをちぇっくします!) by each member of the idol group.
Furthermore, Moso Calibration Live 2015 Haru ~Moso Fantasia in Akasaka Blitz~ (妄想キャリブレーション Live 2015 春 〜妄想ファンタジア in 赤坂Blitz〜) will be held on May 15 in Tokyo.
Tracklist
Regular Edition

CD

Mahou no Juice (魔法のジュース)
You wo Check Shimasu! (Youをちぇっくします!)
Mahou no Juice (Off Vocal)
You wo Check Shimasu! (Off Vocal)
Type A

CD

Mahou no Juice
You wo Check Shimasu!
Mahou no Juice (Off Vocal)
You wo Check Shimasu! (Off Vocal)

DVD

Mahou no Juice (Music Video)
Making-of (メイキングV)
Type B

CD

Mahou no Juice
You wo Check Shimasu!
You wo Check Shimasu! (MC Kurumizawa Mahiru ver.)
You wo Check Shimasu! (MC Hoshino Nia ver.)
You wo Check Shimasu! (MC Futaba Nae ver.)
You wo Check Shimasu! (MC Sakurano Usa ver.)
You wo Check Shimasu! (MC Amamiya Iori ver.)
You wo Check Shimasu! (MC Mizuki Yumeko ver.)
Music Video (PV)