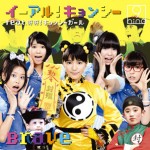 9nine's 7th single Brave / Iiaru! Kyonshi feat. Hao Hao! Kyonshi Girl (Brave / イーアル! キョンシー feat. 好好!キョンシーガール) will be released on November 14.
This is a double A-side single.
The limited editions include a bonus DVD featuring music video, making-of and dance shot version. They also contain an additional track remixed by a DJ.
The songs are used as theme songs for the drama Hao Hao! Kyonshi Girl ~Tokyo Denshidai Senki~ (好好!キョンシーガール〜東京電視台戦記〜) starring Kawashima Umika and other 9nine members.
Regular Edition Type A
CD

Brave
Iiaru! Kyonshi feat. Hao Hao! Kyonshi Girl (イーアル! キョンシー feat. 好好!キョンシーガール)
Brave (Instrumental)
Iiaru! Kyonshi feat. Hao Hao! Kyonshi Girl (イーアル! キョンシー feat. 好好!キョンシーガール) (Instrumental)
Regular Edition Type B
CD

Iiaru! Kyonshi feat. Hao Hao! Kyonshi Girl (イーアル! キョンシー feat. 好好!キョンシーガール)
Brave
Iiaru! Kyonshi feat. Hao Hao! Kyonshi Girl (イーアル! キョンシー feat. 好好!キョンシーガール) (Instrumental)
Brave (Instrumental)
Limited Edition Type A
CD

Brave
Iiaru! Kyonshi feat. Hao Hao! Kyonshi Girl (イーアル! キョンシー feat. 好好!キョンシーガール)
Iiaru! Kyonshi feat. Hao Hao! Kyonshi Girl (イーアル! キョンシー feat. 好好!キョンシーガール) (Akakage's Skankin' Breaks)
Brave (Instrumental)
Iiaru! Kyonshi feat. Hao Hao! Kyonshi Girl (イーアル! キョンシー feat. 好好!キョンシーガール) (Instrumental)
DVD

Music Video
Music Video Making-of
Dance Shot Version
Limited Edition Type B
CD

Iiaru! Kyonshi feat. Hao Hao! Kyonshi Girl (イーアル! キョンシー feat. 好好!キョンシーガール)
Brave
Iiaru! Kyonshi feat. Hao Hao! Kyonshi Girl (イーアル! キョンシー feat. 好好!キョンシーガール) (Ver. Funko Asli) (Remixed by DJ Jet Baron)
Iiaru! Kyonshi feat. Hao Hao! Kyonshi Girl (イーアル! キョンシー feat. 好好!キョンシーガール) (Instrumental)
Brave (Instrumental)
DVD

Music Video
Music Video Making-of
Dance Shot Version