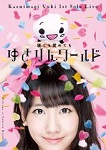 AKB48's Kashiwagi Yuki's 1st Solo Live ~Netemo Sametemo Yukirin World~ (柏木由紀 1stソロライブ 〜寝ても覚めてもゆきりんワールド〜) will be released on DVD and blu-ray on January 2.
She performed 17 songs including covers of AKB48, French Kiss, Aya Matsuura, Petit Moni, Seiko Matsuda, and more.
The concert was held on July 13 at Nakano Sun Plaza.
The DVD and the blu-ray come with a 20-page booklet and a photo randomly selected from 9 kinds.
DVD & Blu-ray
Setlist

Kakkowarui I Love You! (カッコ悪い I Love You!) (French Kiss)
Aru Aki no Hi no Koto (ある秋の日のこと) (French Kiss)
Sora mo Toberu Hazu (空も飛べるはず) (Spitz)
Bingo (AKB48)
Chokotto Love (ちょこっとLove) (Petit Moni)
Momoiro Kataomoi (桃色片想い) (Matsuura Aya)
Nagisa no Balcony (渚のバルコニー) (Matsuda Seiko)
Sekai no Namida (世界の涙) (French Kiss)
Chinmoku (沈黙) (Kashiwagi Yuki)
Rainy Day (French Kiss)
Kazanbai (火山灰) (Kashiwagi Yuki)
Yokaze no Shiwaza (夜風の仕業) (Kashiwagi Yugi)
Flying Get (フライングゲット) (AKB48)
If (French Kiss)
– Encore –
Dragon Fruit no Tabegoro (ドラゴンフルーツの食べ頃) (French Kiss)
Saisho no Mail (最初のメール) (French Kiss)
Romance Privacy (ロマンス・プライバシー) (French Kiss)
Kashiwagi Yuki 1st Solo Live ~Netemo Sametemo Yukirin World~ (Trailer)