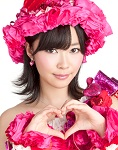 Sashihara Rino Produce 1st Yubi Matsuri ~Idol Rinji Soukai~ (指原莉乃プロデュース 第一回ゆび祭り ~アイドル臨時総会~) will be released on DVD and Blu-ray on December 26.
Many idols participated in the live : Shiritsu Ebisu Chūgaku, Nogizaka46, Passpo☆, Watarirouka Hashiritai 7, Momoiro Clover Z, Tokyo Girls' Style, Super☆Girls, Buono!, Idoling!!!, and Sashihara Rino (AKB48, HKT48).
The concert was held on June 25 at Nippon Budokan.
Both DVD and blu-ray editions include 2 discs featuring 29 songs performed during this idol festival and making-of footage.
DVD & Blu-ray
Tracklisting

Opening (オープニング映像)
Houkago Getabako Rock 'n' Roll MX (放課後ゲタ箱ロッケンロールMX) (Shiritsu Ebisu Chūgaku)
Oide Shampoo (おいでシャンプー) (Nogizaka46)
Guruguru Curtain (ぐるぐるカーテン) (Nogizaka46)
Pock☆Star (Passpo☆)
Shoujo Hikou (少女飛行) (Passpo☆)
Material Girl (マテリアルGirl) (Passpo☆)
Kibou Sanmyaku (希望山脈) (Watarirouka Hashiritai 7)
Shounen yo Uso wo Tsuke! (少年よ 嘘をつけ!) (Watarirouka Hashiritai 7)
Kanpeki Gu~ no ne (完璧ぐ~のね) (Watarirouka Hashiritai 7)
Z Densetsu ~Owarinaki Kakumei~ (Z伝説~終わりなき革命~) (Momoiro Clover Z)
Ikuze! Kaitou Shoujo (行くぜっ!怪盗少女) (Momoiro Clover Z)
Rock You! (Tokyo Girls' Style)
Attack Hyper Beat Pop (Tokyo Girls' Style)
Onnaji Kimochi (おんなじキモチ) (Tokyo Girls' Style)
Welcome to ♥ S☆G Show!! II (Super☆Girls)
Joshiryoku←Paradise (女子力←パラダイス) (Super☆Girls)
Everybody Jump!! (Super☆Girls)
PuriPuri♥Summer Kiss (プリプリ♥Summerキッス) (Super☆Girls)
Hatsukoi Cider (初恋サイダー) (Buono!)
Rottara Rottara (ロッタラ ロッタラ) (Buono!)
Renai♥Rider (恋愛♥ライダー) (Buono!)
Yarakai Heart (やらかいはぁと) (Idoling!!!)
One Up!!! (Idoling!!!)
Ichigo Gyuunyuu (苺牛乳) (Idoling!!!)
Hatsukoi Hills (初恋ヒルズ) (Sashihara Rino)
Ikujinashi Masquerade (意気地なしマスカレード) (Sashihara Rino)
Soredemo Suki Da yo (それでも好きだよ) (Sashihara Rino)
Yeah! Meccha Holiday (Yeah! めっちゃホリディ) (Sashihara Rino, Haruna Ai)
Heavy Rotation (ヘビーローテーション)
Making-of