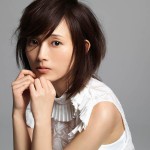 The former idol of Hello! Project, Abe Natsumi, announced her marriage with the 28 year-old actor Yamazaki Ikusaburou.
This announcement was made in the end of last December.
The singer has a relationship with the actor since 2011.
Abe Natsumi was member of Morning Musume (group from Hello! Project) from 1997 to 2004. She's one of the founding members of the idol group.
She debuted a solo carrer under Hello! Project, and she was graduate from it in 2009. She also formed Dream Morning Musume in 2011 with other Morning Musume former members.
Still active under the talent agency Up-Front, she recently released in 2015 a new full album Dreams, which is a double-album et her 3rd studio album.
She's 34 years old.