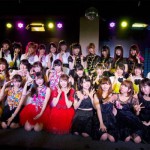 Fans across Asia flocked to watch Starmarie perform at Hong Kong's Music Stage at the group's first ever concert in Hong Kong on December 20th.
Not only has dark fantasy girl group Starmarie achieved domestic success on their road to Budokan, they have simultaneously enjoyed Asia-wide stardom across Asia. In 2015 alone, they performed 4 solo shows in Taiwan, 2 shows in the Philippines, and a show each in China and Indonesia for a total of 8 overseas live performances.
Perhaps surprisingly, Starmarie's December show marked their first ever performance in Hong Kong. The show was a culmination of Starmarie's rise to fame across Asia; fans at the venue were not only from Hong Kong, but flocked all the way from Taiwan, the Philippines, and China. The performance provided a warm welcome for other Japanese idols, OS☆U, Ready to Kiss, and Sakura Mika.
Contrary to the typical familiar pre-show background music, when Starmarie came on stage it was grand and solemn. The group led their audience through their dark fantasy world with their opening tracks, Good Morning!! Hamamura Show, then Let's Find Work at a Haunted House, A Mad Dance in the Moonlight, and Professor Honda's Dying Message. Hong Kong fans were struck by the live show darkness of Starmarie for the first time with their classic Who Killed Circus?.
The second half of the performance unveiled Starmarie's lighter side, with anime Card Fight!! Vanguard G theme song Mekurumeku Yuuki! and Grandpa Grandpa. The domestic show tradition of calling out for Kishita Nozomi during My Home on a Nameless Star carried over to Hong Kong; Kishita sang her heart out, much to the fan's delight.
Fans applauded loudly during the encore when Takamori Shino announced, « We were a bit nervous about our first Hong Kong show, but you all have been such a great audience, and this concert has been a blast! We definitely want to come back to Hong Kong, and perform live shows here more regularly… no, we WILL perform again! ». Following their success in Taiwan, Starmarie is sure to secure the position of number one Japanese idol group in Hong Kong.
Starmarie is set to perform at Taiwan's largest cosplay event, Fancy Frontier Cosplay Convention, on January 30th and 31st. Fans across the globe – from Taiwan and Japan to the United States and Singapore – can hardly wait. Back to the Land of Rising Sun, Starmarie has a big year ahead of them with live performances on February 19th at Shibuya Tsutaya O-East, and their Tokyo-Nagoya-Osaka tour (April 10th at Osaka Esaka Muse, April 17th at Nagoya M.I.D, and the grand finale at Akasaka Blitz on April 27th). Undoubtedly, Starmarie is on the path to achieving success, from Budokan aspirations to becoming the number one Japanese idol group in Asia. It is well worth it to step foot into their intricate and fantastical world.