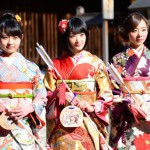 Nogizaka46 members Ikoma Rina, Ito Marika and Kawamura Mahiro held their coming-of-age ceremony (成人式, seijin shiki).
The ceremony took place on January 8th at Nogi Shrine in Tokyo. The 3 members of the idol group, born in 1995 and in early 1996, were wearing beautiful kimonos.
Check out some photos of the event.
Ikoma Rina, Ito Marika and Kawamura Mahiro are part of the 1st generation of Nogizaka46.
Ikoma Rina commented : « I want to go to the izakaya with Bananaman in order to eat yakitori and drink beer ». Bananaman is the comedy duo hosting the idol group's TV variety show Nogizaka Under Construction.
The coming-of-age ceremony is reserved to those who reached 20 years old, which is the age of majority in Japan, over the past year.
Furthermore, Fukagawa Mai has just announced her graduation from Nogizaka46.
The idol group will release its 14th single on March 23rd.