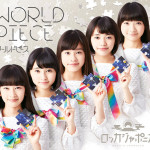 Rock A Japonica's debut single World Piece (ワールドピース) will be released on January 27th.
Rock A Japonica (ロッカジャポニカ) is a new idol group consisting of 5 members from 3B Junior : Uchiyama Ami, Naito Runa, Shiina Ruka, Takai Chiho and Hirase Misato.
The MV and their first profile picture have been revealed.
The lyrics of the title song were composed by Goto Mariko. the former singer and guitarist of the Japanese rock band Midori.
In the music video, the girls practice magic in the classrooms, in the gymnasium and in other places of their school.
The video was directed by Tanabe Hidenobu who has worked for various artists such as 9mm Parabellum Bullet, Superfly, Hitorie, back number, Shiggy Jr…
In addition, the members of Rock A Japonica are going to participate in a series of release events from January 10th to February 28th.
You can watch their self introduction below.
Tracklist
Regular Edition

CD

World Piece (ワールドピース)
Wee Fight Oh!!!!!
Utaitai no Uta (歌いたいのうた)
?? (タイトル未定)
World Piece (off vocal)
Wee Fight Oh!!!!! (off vocal)
Utaitai no Uta (off vocal)
?? (off vocal)
Limited Edition

CD

World Piece
Wee Fight Oh!!!!!
Utaitai no Uta
World Piece (off vocal)
Wee Fight Oh!!!!! (off vocal)
Utaitai no Uta (off vocal)

Blu-ray

World Piece (Music Video)
Making-of (メイキング映像)
Otameshi Edition

CD

World Piece
Wee Fight Oh!!!!! / Utaitai no Uta / ?? (Digest Track)
World Piece (karaoke)
Music Video (PV)