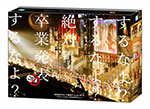 AKB48 Group Tokyo Dome Concert ~Suruna yo? Suruna yo? Zettai Sotsugyou Happyou Suruna yo?~ (AKB48グループ東京ドームコンサート ~するなよ?するなよ? 絶対卒業発表するなよ?~) will be released on DVD and Blu-ray on December 10.
AKB48 Group Tokyo Dome Concert was held on August 18-20, 2014.
More than 300 members from AKB48, SKE48, NMB48 and HKT48 participated in the 2nd and the 3rd days of the live performance.
The theme was "school". The girls were wearing school uniforms on stage.
The DVD and the Blu-ray box sets cover the 3 days of the event. They include making-of and live bonus footage.
They come with a 132-page photo booklet and 5 photos of the members of the AKB48 groups randomly selected.