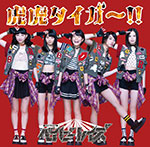 Babyraids' new single Tora Tora Tiger!! (虎虎タイガー!!) will be released on November 26.
This is the 8th single from Babyraids.
The artwork has been unveiled.
The title refers to the tiger which is the symbol the idol group. The flame letters on the artwork represents the energy of the members.
The lyrics of Tora Tora Tiger!! (虎虎タイガー!!) were written by Tamaya 2060% (Wienners). He also composed and arranged the music.
The coupling song Happy Endless (ハッピーエンドレス) was written and composed by Kasai Yoshiki (Tsuru).
Type A and B include a bonus track and a DVD featuring the music video, bonus and making-of footage.
Type C includes a DVD with a live performance of the idol group which took place in July 2014 at Hibiya Open-Air Concert Hall.
The single comes with a ticket for an event, a trading card randomly selected among 5 models, and a digital voting card.
Furthermore, Babyraids 1st Live at Nippon Budokan titled Babyraids Densetsu no Kaminari Mai! -Tora Tora Ichiban- (ベイビーレイズ伝説の雷舞!-虎虎壱番-) will be held on December 18, 2014.
Tracklist
Regular Edition

CD

Tora Tora Tiger!! (虎虎タイガー!!)
Happy Endless (ハッピーエンドレス)
Tora Tora Tiger!! (Instrumental)
Happy Endless (Instrumental)
Type A

CD

Tora Tora Tiger!!
Happy Endless
Fuyu no Mahou (冬の魔法)
Tora Tora Tiger!! (Instrumental)
Happy Endless (Instrumental)
Fuyu no Mahou (Instrumental)

DVD

Tora Tora Tiger!! (Music Video)
Tora no Mon Retsuden ~Budokan Made Naki ma Hen~ (虎ノ門列伝 ~武道館まで泣きま編~)
Tora Tora Tiger!! (Jacket Making-of)
Type B

CD

Tora Tora Tiger!!
Happy Endless
Magic Hour (マジックアワー)
Tora Tora Tiger!! (Instrumental)
Happy Endless (Instrumental)
Magic Hour (Instrumental)

DVD

Tora Tora Tiger!! (Music Video)
Tora Tora Tiger!! (Dance Ver.)
Tora no Mon Retsuden ~Iza Budokan! "Tora Toraro" 1-tsu ni!~ (虎ノ門列伝 ~いざ武道館!"虎虎ろ"を1つに!~)
Tora Tora Tiger!! (MV Making-of)
Type C

CD

Tora Tora Tiger!!
Happy Endless
Tora Tora Tiger!! (Instrumental)
Happy Endless (Instrumental)

DVD

 Babyraids Densetsu no Kaminari Mai! -Katakura Tora Issetsu- 2014.07.13 at Hibiya Open-Air Concert Hall (ベイビーレイズ伝説の雷舞!-頑虎一徹- 2014.07.13 at 日比谷野外音楽堂)

Koi wa Panic (恋はパニック)
Rock On Darling (ロックオン・ダーリン)
Baby Revolution (ベイビーレボリューション)
Baby Step (ベイビーステップ)
ミチシルベ
Babyraids (ベイビーレイズ)
Charinko Idol (チャリンコアイドル)
Bucchake Rock'n Hacchake Roll (ぶっちゃけRock'n はっちゃけRoll)
Tiger Soul