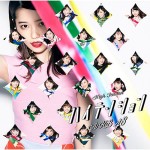 AKB48 will release their 46th single High Tension (ハイテンション) on November 16.
The main song is a disco song.
The single's center is Shimazaki Haruka, who announced on October 3 her graduation from AKB48 scheduled for December 26. So, this is the last single featuring Paruru.
The 1st generation member, Kojima Haruna, also announced in May her furture graduation. Her graduation ceremony will be held on February 22, 2017 at Yoyogi National Stadium.
The senbatsu members are : Iriyama Anna, Kojima Haruna, Shimazaki Haruka, Yokoyama Yui, Mukaichi Mion, Kato Rena, Kizaki Yuria, Watanabe Mayu, Kashiwagi Yuki, Okada Nana, Kawamoto Saya, Kojima Mako, Komiyama Haruka, Takahashi Juri, Oguri Yui, Matsui Jurina, Yamamoto Sayaka, Sashihara Rino, Kodama Haruka, Miyawaki Sakura, Matsuoka Hana and Nakai Rika.
The MVs were unveiled.
This single will be available in several editions inluding one which will be sold only in AKB48 theater.
The first sales of limited editions will come with an event ticket to have chance to attend one of the single launch events.
Furthermore, a new single of the idol group arrives soon!
Tracklist
Type A

CD

High Tension (ハイテンション)
Osaekirenai Shoudou (抑えきれない衝動) (Waiting Circle)
Happy End (ハッピーエンド) (Renacchis)
High Tension (off vocal ver.)
Osaekirenai Shoudou (off vocal ver.)
Happy End (off vocal ver.)

DVD

High Tension (Music Video)
Osaekirenai Shoudou (Music Video)
Happy End (Music Video)
Type B

CD

High Tension (ハイテンション)
Osaekirenai Shoudou (抑えきれない衝動) (Waiting Circle)
Better
High Tension (off vocal ver.)
Osaekirenai Shoudou (off vocal ver.)
Better (off vocal ver.)

DVD

High Tension (Music Video)
Osaekirenai Shoudou (Music Video)
Better (Music Video)
Type C

CD

High Tension (ハイテンション)
Osaekirenai Shoudou (抑えきれない衝動) (Waiting Circle)
Hoshizora wo Kimi ni (星空を君に) (Team 8 EAST)
High Tension (off vocal ver.)
Osaekirenai Shoudou (off vocal ver.)
Hoshizora wo Kimi ni (off vocal ver.)

DVD

High Tension (Music Video)
Osaekirenai Shoudou (Music Video)
Hoshizora wo Kimi ni (Music Video)
Type D

CD

High Tension (ハイテンション)
Osaekirenai Shoudou (抑えきれない衝動) (Waiting Circle)
Shishunki no Adrenaline (思春期のアドレナリン) (Team 8 WEST)
High Tension (off vocal ver.)
Osaekirenai Shoudou (off vocal ver.)
Shishunki no Adrenaline (off vocal ver.)

DVD

High Tension (Music Video)
Osaekirenai Shoudou (Music Video)
Shishunki no Adrenaline (Music Video)
Type E

CD

High Tension (ハイテンション)
Osaekirenai Shoudou (抑えきれない衝動) (Waiting Circle)
Seijun Tired (清純タイアド) (Tentoumu Chu!)
High Tension (off vocal ver.)
Osaekirenai Shoudou (off vocal ver.)
Seijun Tired (off vocal ver.)

DVD

High Tension (Music Video)
Osaekirenai Shoudou (Music Video)
Seijun Tired (Music Video)
Theater Edition

CD

High Tension (ハイテンション)
Osaekirenai Shoudou (抑えきれない衝動) (Waiting Circle)
Mata Anata no Koto wo Kangaeteta (また あなたのことを考えてた) (Team Vocal)
High Tension (off vocal ver.)
Osaekirenai Shoudou (off vocal ver.)
Mata Anata no Koto wo Kangaeteta (off vocal ver.)
Music Video (PV)