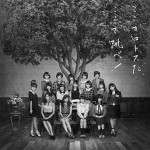 AKB48's 6th album Koko ga Rhodes Da, Koko de Tobe! (ここがロドスだ、ここで跳べ!) is on sale since January 21.
This album consists of 2 CDs featuring AKB48's latest singles and new songs. It includes songs performed by various units and soloists.
The limited edition comes with a bonus DVD with music videos by each team.
The members appearing on the cover are Watanabe Mayu, Sashihara Rino, Kashiwagi Yuki, Matsui Jurina, Matsui Rena, Yamamoto Sayaka, Shimazaki Haruka, Kojima Haruna, Takahashi Minami, Miyawaki Sakura, Miyazawa Sae, Yokoyama Yui, Ikoma Rina, Kawaei Rina, Minegishi Minami and Kizaki Yuria.
Furthermore, AKB48 Request Hour Setlist Best 1035 2015 (AKB48リクエストアワー セットリストベスト1035 2015) is being held on January 21-25 at Tokyo Dome City Hall. Fans could vote for their favorite songs from November 25 to December 22, 2014.
Tracklist
CD 1

Kibouteki Refrain (希望的リフレイン
Labrador Retriever (ラブラドール・レトリバー)
Reborn(Team Surprise)
Suzukake no Ki no Michi de "Kimi no Hohoemi wo Yume ni Miru" to Itteshimattara Bokutachi no Kankei wa Dou Kawatteshimau no ka, Bokunari ni Nannichi ka Kangaeta Ue de no Yaya Kihazukashii Ketsuron no You na Mono (鈴懸の木の道で「君の微笑みを夢に見る」と言ってしまったら僕たちの関係はどう変わってしまうのか、僕なりに何日か考えた上でのやや気恥ずかしい結論のようなもの)
Mae Shika Mukanee (前しか向かねえ)
Kimi no Hitomi wa Planetarium (君の瞳はプラネタリウム) (Kenkyuusei)
Futari wa Dekiteru (2人はデキテル) (Kojima Haruna, Kitagawa Kenji)
Heart Ereki (ハート・エレキ)
Kokoro no Placard (心のプラカード)
47 no Suteki na Machi e (47の素敵な街へ) (Team 8)
Erande Rainbow (選んでレインボー(Tentoumu Chu!)
Koi to ka… (恋とか…)
Ai no Sonzai (愛の存在)
CD 2 (Type A)

Conveyor (Yokoyama Team K)
Seijun Philosophy (清純フィロソフィー) (Minegishi Team 4)
Henachoko Support (へなちょこサポート) (Team 8)
Kanojo (彼女) (Miyawaki Sakura)
Downtown Hotel 100 Goushitsu (ダウンタウンホテル100号室)
Sailor Zombie (セーラーゾンビ) (Milk Planet)
Junjou Soda-sui (純情ソーダ水) (Watanabe Mayu)
Ai to Kanashimi no Jisa (愛と悲しみの時差) (Yamamoto Sayaka)
Birth
7 Kaime no "Les Mis" (7回目の「レミゼ」) (Kojima Haruna)
Oh! Baby! (Takahashi Team A)
Koko ga Rhodes da, Koko de Tobe! (ここがロドスだ、ここで跳べ!)
CD 2 (Type B)

Bokutachi no Ideology (僕たちのイデオロギー)
To go de (To goで) (Kuramochi Team B)
Oshiete Mommy (教えてMommy)
Setsunai Reply (切ないリプライ) (Sashihara Rino)
Panama Unga (パナマ運河) (Kawaei Rina, Matsui Rena, Minegishi Minami, Watanabe Miyuki)
Akai Pin Heel to Professor (赤いピンヒールとプロフェッサー) (Matsui Jurina)
Yowamushi Kemushi (よわむしけむし) (Kashiwagi Yuki)
Namida wa Atomawashi (涙は後回し) (Minegishi Team 4)
All of you (Takahashi Minami)
Tomodachi de Irareru Nara (友達でいられるなら) (Shimazaki Haruka, Yokoyama Yui)
Kyou Made no Melody (今日までのメロディー)
Ikitsuzukeru (生き続ける)
DVD (Limited Edition)

Juujun na Slave (Team A) (Music Video)
Hajimete no Drive (Team K) (Music Video)
Loneliness Club (Team B) (Music Video)
Me wo Aketa Mama no First Kiss (Team 4) (Music Video)
47 no Suteki na Machi e (Team 8) (Music Video)
Reborn (Team Surprise) (Music Video)