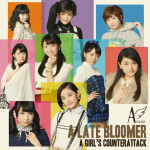 Angerme's new single Taikibansei / Otome no Gyakushu (大器晩成/乙女の逆襲) will be released on February 4.
This is the first single of the idol group since S/mileage changed their name to Angerme.
S/mileage 3rd generation members Aikawa Maho, Sasaki Rikako and Murota Mizuki are making their debut on this CD.
The MV and the new profile picture of the idol unit have been unveiled.
This single is a double A-side.
Taikibansei was written and composed by Nakajima Takui.
The lyrics of Otome no Gyakushu were written by Kodama Ameko who has already worked for several idol groups in the past. The music was composed by Kawanabe Hiroshi and Tadashi Ueda.
The regular editions come with the photo of a member of the idol group randomly selected.
The limited editions include bonus DVD featuring various versions of the music videos and making-of footage. They also include a ticket for a handshake event.
Furthermore, Angerme are going to hold their 1st live at Nippon Budokan on May 26, 2015.
Sasaki Rikako's 1st solo blu-ray Greeting ~Sasaki Rikako~ will be released on February 27.
Tracklist
Type A / C

CD

Taikibansei (大器晩成)
Otome no Gyakushu (乙女の逆襲)
Taikibansei (Instrumental)
Otome no Gyakushu (Instrumental)

DVD (Type A)

Taikibansei (Music Video)

DVD (Type C)

Taikibansei (Dance Shot ver.)
Making-of
Type B / D

CD

Otome no Gyakushu
Taikibansei
Otome no Gyakushu (Instrumental)
Taikibansei (Instrumental)

DVD (Type B)

Chikyuu wa Kyou mo Ai wo Hagukumu (Music Video)

DVD (Type D)

Chikyuu wa Kyou mo Ai wo Hagukumu (Dance Shot ver.)
Chikyuu wa Kyou mo Ai wo Hagukumu (Making-of)
Music Video (PV)