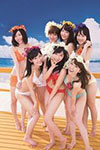 The photobook AKB48 Sousenkyo! Mizugi Surprise 2013 (AKB48総選挙!水着サプライズ2013) will be released on August 5.
As its title suggests, this photobook includes photos in swimsuits of all the 64 members from AKB48, SKE48, NMB48, and HKT48 ranked at the 5th AKB48 Senbatsu General Election 2013 (第5回AKB48選抜総選挙2013).
It is the volume 5 of this annual series of photobooks which started being published in 2009.