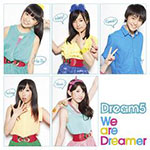 Dream5 will release their 11th single We Are Dreamer on August 14.
The limited edition includes a bonus track. It also comes with a bonus DVD featuring the music video and the choreography footage.
The coupling song Kami-sama Ya Ya Ya (神様 ヤーヤーヤー ) is the ending theme for the anime Little Battlers eXperience Wars (ダンボール戦機Wars) broadcast on TV Tokyo (テレビ東京系6局ネット).
The other coupling song Pararirura (パラリルラ) is the ending theme song for the anime Hana Kappa (はなかっぱ) airing on NHK E-Tele (NHK Eテレ).
Regular Edition
CD

We Are Dreamer
Kami-sama Ya Ya Ya (神様 ヤーヤーヤー )
We Are Dreamer (Instrumental)
Kami-sama Ya Ya Ya (神様 ヤーヤーヤー ) (Instrumental)
Limited Edition
CD

We Are Dreamer
Kami-sama Ya Ya Ya (神様 ヤーヤーヤー )
Pararirura (パラリルラ♪)
We Are Dreamer (Instrumental)
Kami-sama Ya Ya Ya (神様 ヤーヤーヤー ) (Instrumental)
Pararirura (パラリルラ♪) (Instrumental)
DVD

We Are Dreamer (Music Video)
We Are Dreamer (Choreography Video)
Kami-sama Ya Ya Ya (神様 ヤーヤーヤー ) (Choreography Video)
Pararirura (パラリルラ♪) (Choreography Video)