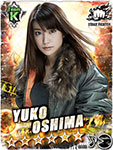 The new TV CM for AKB48 Stage Fighter (AKB48ステージファイター) has been released. In this CM, the challenge of the members of AKB48 is to make the longest jump.
AKB48 Stage Fighter is a video game made in collaboration with Gree. The aim is to help our "oshimen" to become the center girl in order to save the world. It is a card battle game.
The special cards representing Kuramochi Asuka, Oshima Yuko, Takahashi Juri, Matsui Jurina, Izuta Rina, and Shimazaki Haruka have been unveiled.
Oshima Yuko has won the 3rd edition last year. Takahashi Juri was ranked 2nd, and Kuramochi Asuka reached the 3rd position.
AKB48 Stage Fighter is available in Japan on iPhone and Android smartphones.
CM
Cards