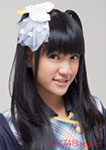 Cindy Gulla announced her graduation from JKT48.
She explained that she had learned a lot over the past 2 years and that she had realized her dreams. She decided to leave the idol group in order to experience new things.
Cindy Gulla joined JKT48 in 2011 as a 1st generation member. She is part of Team J.
The announcement was made on February 7 at the end of the live performance of Team J 2nd Stage Demi Seseorang (誰かのために ; Dareka no Tame ni).