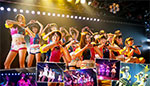 AKB48 Team 4 2nd Stage "Te wo Tsunaginagara" (手をつなぎながら) will be released on DVD on April 26.
AKB48 Team 4 2nd Stage is performed at their theater in Akihabara since November 3, 2013.
This is the 1st Stage of the new Team 4 consisting of Minegishi Minami and the members of the 13rd and the 14th generation of AKB48. It was formed in August 2013.
The members participating in the live performance are Aigasa Moe, Iwatate Saho, Uchiyama Natsuki, Umeta Ayano, Okada Ayaka, Okada Nana, Kitazawa Saki, Kojima Mako, Shinozaki Ayana, Takashima Yurina, Nishino Miki, Hashimoto Hikari, Maeda Mitsuki, Minegishi Minami, Murayama Yuiri, Mogi Shinobu.
Setlist
overture
Bokura no Kaze (僕らの風)
Mango No.2 (マンゴー No.2)
Te wo Tsunaginagara (手をつなぎながら)
Chime wa Love Song (チャイムはLove Song)
Glory Days
Kono Mune no Barcode (この胸のバーコード)
Wimbledon e Tsuretette (ウィンブルドンへ連れて行って)
Ame no Pianist (雨のピアニスト)
Choco no Yukue (チョコの行方)
Innocence
Romance Rocket (ロマンスロケット)
Koi no Keikou to Taisaku (恋の傾向と対策)
Daisuki (大好き)
Rope no Yuujou (ロープの友情)
Kayoubi no Yoru, Suiyobi no Asa (火曜日の夜、水曜日の朝)
Tooku ni Ite mo (遠くにいても)