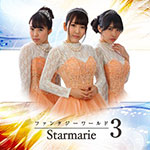 Starmarie's new album Fantasy World 3 (ファンタジーワールド3) will be released on April 16.
This is the 3rd album from Starmarie. The CD includes 11 songs.
The MV for Professor Honda's Dying Message (本田教授のダイイングメッセージ) has been released.
Furthermore, Starmarie will hold a live performance on April 7 at Tsutaya O-East in Tokyo.
The idol group participated in SXSW music festival in USA in March 11-16.
Tracklist
Good Morning!! Hamamura Show (グッモーニンッ!! ハマムラShow)
Teiou no Karei na Alibi (帝王の華麗なアリバイ)
Honda Kyuuju no Dying Message (本田教授のダイイングメッセージ)
Kyou Oshiki Gekka no Budoukai (狂おしき月下の舞踏会)
Puppet Mania Mr. Joe to Himitsu no Yakata (パペットマニアMr.Joeと秘密の館)
Uchuujin Nari no Theme Park Kousatsu (宇宙人なりのテーマパーク考察)
Mama wa Tensai Guitarist (ママは天才ギタリスト)
Koi Suru Vocaloid (恋するボーカロイド)
Ano Hi kara Umareta Hi kara (あの日から産まれた日から)
Sayonara Obento (さよならお弁当)
Grandpa Grandpa (ぐらんぱぐらんぱ)
Music Video (PV)