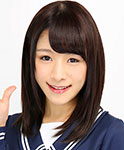 Nogizaka46 announced the graduation of Ando Mikumo from the group.
Ando Mikumo, who will be 20 in May, decided to leave the unit to focus on her studies.
She will graduate on June 16 after the special event Anata Dake no Tame ni Message, Iwasete Kudasai! -Namagoe Rokuon Kai- (あなただけのためにメッセージ、言わせてくださいっ!-生声録音会-) which will be held in Tokyo.
Ando Mikumo joined Nogizaka46 in August 2011 as a 1st generation member.