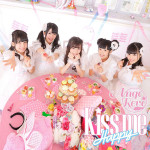 The new single of Ange☆Reve entitled Kiss me happy was released on February 10.
This is the 2nd single of Ange☆Reve, a sister group of Lovely☆Doll and Doll☆Elements. The previous single entitled Yuukan na Koi no Serenade (勇敢な恋のセレナーデ) was released on August 8, 2014.
The tracklist and the music video were unveiled.
One edition only is available. It contains the main song Kiss me happy, a new song in B-side Grow Up!! and their instrumental versions.
Discover the music video of Kiss me happy below.
Tracklist
CD

Kiss me Happy
Grow Up!!
Kiss me Happy (instrumental)
Grow Up!! (instrumental)
Music Video (PV)