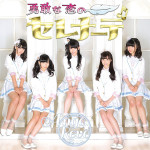 Ange Reve's 1st single Yuukan na Koi no Serenade (勇敢な恋のセレナーデ) will be released on August 5.
This is the debut single from Ange☆Reve.
The MV has been unveiled.
Yuukan na Koi no Serenade is a catchy pop song.
The members appear as pure and innocent girls in the video.
Ange☆Reve is a sister group of Lovely Doll and Doll☆Elements.
The idol group was formed in April 2014.
The CD includes 2 songs. Only one edition is on sale.
Tracklist
Yuukan na Koi no Serenade (勇敢な恋のセレナーデ)
Hatsukoi Gekokujou (恋愛☆下剋上!)
Music Video (PV)