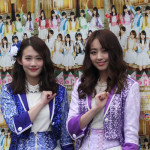 Arai Reira and Katsuta Rino announced their graduation from Super☆Girls.
They will leave the idol group after a last live performance scheduled on June 25th at Tokyo Dome City Hall.
They made this announcement on March 13th during an event held at Shinjuku Station Square for the release of Super☆Girls' new album Super★Castle.
Katsuta Rino explained that she wanted to become a sportscaster.
Arai Reira told that she aimed to find a job related to fashion.
Katsuta Rino and Arai Reira are original members of Super☆Girls. They joined the idol group in June 2010.