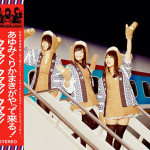 Ayumikurikamaki's new album Ayumikurikamaki ga Yattekuru! Kuma! Kuma! Kuma! (あゆみくりかまきがやって来る!クマァ!クマァ!クマァ!) will be released on April 13th.
This is the 1st full album by the idol group. It includes the latest singles and 3 new songs by the "bear girls".
The titles of these brand new tracks are Starlight Jamboree, War Cry and What's my Name?.
The limited edition comes with a Blu-ray featuring a studio session in which Ayumikurikamaki perform with a band consisting of famous musicians such as Masuo Arimatsu (Black Drop Bomb), 4106xxx (Scafull King, Braziliansize), Pablo (Pay Money to my Pain). It also has private footage of the members.
The album cover is a tribute to The Beatles' first arrival in Japan. The girls reenact the scene in which the legendary rock band is getting off the plane.
In addition, Ayumikurikamaki will hold a mini live tour starting of February 6th.
The idol group and Pan will be having a joint live performance on March 7th at Tsutaya O-West, Tokyo.
Tracklist
CD

Starlight Jamboree (スターライトジャボリー)
War Cy
Jet Kuma Star (ジェットクマスター)
Honey Honey Honey (蜜蜜蜜)
Shinyuu Forever (心友フォーエヴァー)
Killla Tune
What's my Name?
Ai no Uta (アイノウタ)
Mori Mori Mori (森森森)
Shake Shake Shake (鮭鮭鮭)
Jibun Kakumei (自分革命)
Nakimushi Hero (ナキムシヒーロー)
CD (Limited Pressing)

War Cry
Killla Tune
Jet Kuma Star
Shake Shake Shake
Shinyuu Forever
Jibun Kakumei
Blu-ray (Limited Edition)

Studio Session

What's my Name?
Shinyuu Forever
Jet Kuma Star
Shake Shake Shake

AKM no Private Video (AKMのプライヴェート映像) Part III