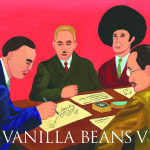 Vanilla Beans will release its new album Vanilla Beans V on February 3.
This is the 5th album of the shibuya-kei idol group. It is also the 1st one of the group to be released under a major label.
The covers were unveiled.
Vanilla Beans indeed signed under Avex Trax in Augut 2015 and already released under this label its single Onna Sore wo Gaman Shinai / Be-nius / lonesome X last November, which ranked 25nd on Oricon Weekly Single Chart.
After winning the challenge of selling more than 15,000 copies of their single, the Vanilla Beans members can continue their activities and release this new album.
The album will be sold in two editions: regular and limited. The CD will contain a total of 13 tracks including songs from their latest single.
One of the new songs DARE was sung with the DJ RAM RIDER.
The DVD of the limited edition will contain a video of the concert idol group at Club Asia in Tokyo, on November 21.
Furthermore, Vanibe will perform their new live Vanilla Beans One-man Live Vol.9 on March 18.
Tracklist
CD

Say Goodbye
Onna wa Sore wo Gaman Shinai (女はそれを我慢しない)

Night

-and-

fly (ナイト・アンド・フライ)


DARE (feat. RAM RIDER)

Brand New

Twilight (ブランニュー・トワイライト)


Lady Survivor

BOYZ & GIRLZ

Jounetsu Violence (情熱バイオレンス)
Bi-nius (ビーニアス)

Style

and

Council

(スタイル・アンド・カウンシル)
lonesome X
Now & Forever
Datte Sekai wa Kimi ga Omou Yori Motto (だって世界は君が思うよりもっと)
DVD

Vanilla beans

one-man

live

11/21 clubasia

one-man

LIVE

L

ive Video

 (バニラビーンズワンマンライブ 11/21 clubasiaワンマンLIVE ライブ映像)