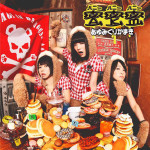 Ayumikurikamaki's new single Honey Honey Honey (蜜蜜蜜) will be released on June 24.
This is the 2nd major single by Ayumikurikamaki, an idol group consisting of 3 cute "bear girls".
It is the ending theme song for the anime Punch Line (パンチライン) airing on Fuji TV's notaminA ("animation" written backwards).
As you might have guessed, "蜜" is a kanji character meaning "honey" or "nectar". However, it is pronounced "mitsu" in Japanese.
It should be noted that the kanjis have been written to design AKM, i.e. the initials of the 3 members of the idol group, on the visual of the cover.
The lyrics of Honey Honey Honey were written by Tanaka Hidenori. The music was composed by Watabe Yosuke.
The B-side track Killlar Tune (no typo, 3 "l") was written by Tanaka Hidenori.
Both songs were arranged by Apazzi & U.M.E.D.Y..
In addition, the idol group will hold a mini-live tour from May 22 to June 28 in order to promote this single. The girls will perform in Tokyo, Osaka and Kanagawa prefectures..
Ayumikurikamaki one-man live Bokura no Kuma Damashii ~Ase to Kandou no Namida de Detox Hen~ (ボクらの熊魂2015 ~汗と感動の涙でデトックス編~) will take place on September 20 at Shibuya Club Quattro in Tokyo.
Furthermore, the opening theme for Punch Line anime series is sung by Nakagawa Shoko and Dempagumi.inc.
Tracklist
Regular Edition

CD

Honey Honey Honey (蜜蜜蜜)
Killla Tune
Ai no Uta (アイノウタ)
Hone Honey Honey (Instrumental)
Killla Tune (Instrumental)
Ai no Uta (Instrumental)
Limited Edition

CD

Honey Honey Honey (蜜蜜蜜)
Killla Tune
Hone Honey Honey (Instrumental)
Killla Tune (Instrumental)

DVD

Honey Honey Honey (Music Video)
Making-of
AKM no "Nuoki de Dokkiri" Private Video (AKMの「寝起きでドッキリ!」プライヴェート映像)
Anime Edition

CD

Honey Honey Honey
Killa Tune
Honey Honey Honey (TV size)
Honey Honey Honey (Instrumental)
Honey Honey Honey (A cappella)

DVD

"Punch Line" Non-Credit Ending Theme Video (TVアニメ「パンチライン」ノンクレジットED映像)
Ayumikurikamaki History Digest (あゆみくりかまきヒストリーダイジェスト)
"Lisani!" Interview Movie (「リスアニ!」Interview映像)