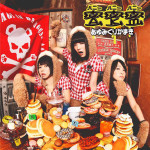 Ayumikurikamaki's new single Honey Honey Honey (蜜蜜蜜) will be released on June 24.
This is the 2nd major single by Ayumikurikamaki, an idol group consisting of 3 cute "bear girls".
It is the ending theme song for the anime Punch Line (パンチライン) airing on Fuji TV's notaminA ("animation" written backwards).