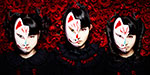 Babymetal Live at Budokan ~Red Night & Black Night Apocalypse~ will be released on DVD and Blu-ray on January 7, 2015.
Moreover, a live album by Babymetal titled Live at Budokan ~Red Night~ will also be on sale at the same date in 2 editions.
The digest video has been unveiled.
This live album includes two sets of songs: one set sung at Nippon Budokan during the event Akai Yoru LEGEND "Kyodai Corset Matsuri" ~Tenkaichi Metal Budo kai Final~ held on March 1, 2014  and another sung in the same place during the event Kuroi Yoru LEGEND "DOOMSDAY" ~Shoukan no Gi~ held the following day on March 2. The songs are most of them from previous discs released by the idol group.
Tracklist
Akai Yoru LEGEND "Kyodai Corset Matsuri" ~Tenkaichi Metal Budo kai Final~ 2014/03/01 at Nippon Budokan
Megitsune (メギツネ)
Do・Ki・Do・Ki☆MORNING (ド・キ・ド・キ☆モーニング)
Gimme Choko!! (ギミチョコ!!)
Ii ne! (いいね!)
Catch me if you can
U・ki・U・ki★Midnight (ウ・キ・ウ・キ★ミッドナイト
Akumu no Rinbukyoku (悪夢の輪舞曲)
Onedari Daisakusen (おねだり大作戦)
4 no Uta (4の歌)
Benitsuki -Akatsuki- (紅月-アカツキ-)
BABYMETAL DEATH
Headbanger!! (ヘドバンギャー!!)
Ijime, Dame, Zettai (イジメ、ダメ、ゼッタイ)
Kuroi Yoru LEGEND "DOOMSDAY" ~Shoukan no Gi~ 2014/03/02 at Nippon Budokan
BABYMETAL DEATH
Ii ne! (いいね!)
Kimi to Anime ga Mitai ~Answer for Animation With You (君とアニメが見たい)
Onedari Daisakusen (おねだり大作戦)
4 no Uta (4の歌)
NO RAIN, NO RAINBOW
Benitsuki -Akatsuki- (紅月-アカツキ-)
Catch me if you can
U・ki・U・ki★Midnight (ウ・キ・ウ・キ★ミッドナイト)
Gimme Choko!! (ギミチョコ!!)
Akumu no Rinbukyoku (悪夢の輪舞曲)
Megitsune (メギツネ)
Ijime, Dame, Zettai (イジメ、ダメ、ゼッタイ)
Do・Ki・Do・Ki☆MORNING (ド・キ・ド・キ☆モーニング)
Headbanger!! (ヘドバンギャー!!)
Video