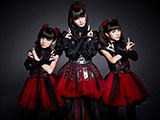 Babymetal will become the youngest artists to perform at Nippon Budokan with their live performance to be held at the famous venue in Tokyo on March 1-2, 2014.
The previous holder of the title was the singer Iwai Sayuri who made her debut at Budokan at the age of 15.1 years old. This record will be beaten by Nakamoto Suzuka (16), Kikuchi Moa (14) and Mizono Yui (14), who have an average age of 14.6 years old.
The trailer has been released.