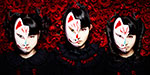 Babymetal are going to participate in Sonisphere Festival UK in England on July 4-6, 2014.
Sonisphere is a rock festival that will be held at Knebworth Park.
Babymetal will perform alongside famous rock bands such as Iron Maiden, Metallica, The Prodigy, Limp Bizkit, Deftones, Alice In Chains…
Su-Metal said that the members of Babymetal were very honored, but also nervous and excited to participate in such a big event overseas.
In February, the 1st album of the Japanese idol group titled Babymetal reached the 1st position on the metal album chart in the United States, and the 2nd position in UK and Germany.
The live video of their song Gimme Choco became a viral phenomenon on the internet and got more than 5 million views on YouTube in 2 months.
As a result of this international success, Babymetal had announced in March that the idol unit was going to hold live performances in Europe in summer 2014.
Babymetal World Tour 2014 will be held on July 1-7. There will be some concerts in France, in Germany and in United Kingdom.