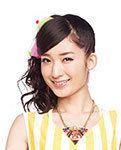 Sugieda Mayu announced her withdrawal from Happiness and E-Girls on April 7.
Sugieda Mayu explained on her blog that she was going to pursue her career as a solo artist. In addition to singing and dancing, she wants to do other activities.
She said to her fans that it was not a goodbye but a new start.
Sugieda Mayu passed a vocal audition in December 2009 to join Happiness. She is also a member of E-Girls since December 2011.
She had to stop her activities for a period of one year from August 2012 due to a medical treatment.
Furthermore, E-Girls' new album Colorful Pop is on sale since March 19.