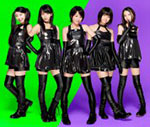 Babyraids will hold their 1st live Babyraids Densetsu no 3 Kai Mawashi (ベイビーレイズ伝説の3回まわし) on March 9.
The concert will take place at Shinjuku Loft, Tokyo.
Their goal is to have a total of 1000 people at their 3 live performances which will be held on that day.
3 live performances are planned.
Schedule
Date : 09/03/2013
Time : 13:00 / 15:30 / 18:00
Venue : Shinjuku Loft, Tokyo